TV Series are becoming increasingly popular, with many filmmakers choosing this medium to tell their stories in the best written way possible. The most fundamental element of a TV Series is obviously its script. Audiences would not waste their time watching 10 episodes of a story which makes no sense.
TV Shows are much more difficult to write because they do not usually follow a single narrative. A show with multiple seasons would require efficient material to make each season more interesting and entertaining.
We are living in the golden age of content, so with the increase in the number of TV Series being produced (thanks to streaming services), it is sometimes difficult to choose a suitable program for yourself.
I have handpicked some of the most engaging, entertaining, and the most well-written TV Series for you. In this list, we will be going through the top 10+ best-written TV Series.
Best Written TV Series
This list includes the most well-written tv series. We have picked all kinds of shows ranging from smart comedies to series thrillers.
So let's begin our list.
11. Mad Men (2007-2015)
Mad Men takes place in the 60s and revolves around the lives of the men and women who work in an advertising agency in New York. However, their agency has to adapt to the ever-changing environment to stay on top of the game.
The show is created by Matthew Weiner and it is based on a very fresh and mind-blowing concept. The show's writing is top-notch and you will be hooked from the very first episode. It has 7 seasons and every season is very consistent in terms of quality.
If you like witty characters finding a solution for every wicked problem they face then you will absolutely love Mad Men.
---
10. House M.D. (2004-2012)
House M.D. is a medical drama created by David Jolt. The genre of medical drama was reborn when House M.D. started airing back in 2004.
The show follows Dr. Gregory House (portrayed perfectly by High Laurie) who is very anti-social, witty, and arrogant. In short, he is what Sherlock Holmes would be like as a doctor. We follow him and his team of medical professionals as they try to cure patients with complex medical conditions.
There is just something so satisfying about watching Dr. House come up with ideas to cure his patients. The show is very well-written and well-researched. Moreover, it is labeled as the most accurate medical drama in the history of television.
---
9. Hannibal (2013-2015)
Hannibal is the adaptation of Thomas Harris' iconic character created for television by Bryan Fuller. Hannibal delves into the early days of famous psychiatrist Hannibal Lecter's relationship with a young FBI criminal profiler who is disturbed by his ability to think just like a serial killer.
It is one of those shows that were canceled too early by the network. Will Graham and Hannibal Lecter are portrayed perfectly by Hugh Dancy and Mads Mikelson respectively. This show is regarded as the best portrayal of Hannibal ever since The Silence of The Lambs.
Even though this series's life span was short, it managed to establish a very die-hard fan base. Every episode is beautifully written and equally engaging than its predecessor.
---
8. Sherlock (2010-2017)
Sherlock Holmes has been around for more than a hundred years and we have gotten various portrayals of him over the past decades. However, Steven Moffat decided to put a modern spin on the iconic detective.
Sherlock is a British crime thriller show which follows Sherlock Holmes in the 21st century, solving bizarre crimes. He is accompanied by a young Dr. Watson.
Steven Moffat has done an incredible job reviving this character for the small screen. In addition to the great scripts, the show also has a touch of humor that does not feel forced or overdone. Every episode adapts a different Holmes' story however in the end all of the episodes are interconnected.
If you are a fan of Sherlock Holmes, then you must watch this amazing adaptation of Sir Arthur Conan Doyle's work.
---
7. Mr. Robot (2015-2019)
Mr. Robot is a crime drama thriller show. It follows an antisocial vigilante hacker who gets involved in a campaign against a multinational company when he is recruited by a group of mysterious hackers.
Mr. Robot is a very intricately written series. It can be a little hard to understand at times but as the season reaches the final episode, it all begins to make sense.
The show has a very deeper meaning behind its story. It feels very real and shows us the reality of the age of the internet. You would be sitting on your seat with your jaw dropped when you reach the final episode of the very first season.
---
6. M*A*S*H (1972-1983)
M*A*S*H is probably one of the most loved sitcoms. It is a very smartly written comedy show which is set during the Korean War. The staff of an Army hospital discovers that laughter is probably the best medicine.
The show was created by Larry Gelbart and managed to entertain families for almost a decade. The writing was consistently good throughout the show's runtime. In spite of its comedic nature, M*A*S*H also managed to touch upon some serious topics in a very lighthearted manner.
Most importantly, the beauty of M*A*S*H lies in its simplicity. It is one of the best-written sitcoms in the history of tv series.
---
5. Band of Brothers (2001)
Band of Brothers is a war thriller mini-series. If you hear those names together you'll have nothing but high expectations and they certainly exceeded all the expectations.
This mini-series follows Easy Company of the 101st Airborne Division of the United States Army and their mission in World War II Europe. It is a compelling story of brotherhood that, most importantly, is about ordinary guys doing remarkable things.
Band of Brothers is really beautifully written and features a cast of extremely talented actors. The story is extremely impactful and thought-provoking.
---
4. Seinfeld (1989-1998)
Seinfeld is an American sitcom. The show follows Jerry Seinfeld, a quirky New York City stand-up comedian, and his misadventures alongside his nutty New York City friends.
This show is usually compared with Friends but in my opinion, that is not a very fair comparison. Both shows are good in their own way. Unlike Friends, Seinfeld is much more humor-oriented and the comedic trio of Jerry, Krammer, and George is absolutely hilarious.
Seinfeld is a very smart comedy. The humor is very well thought out and the comedic timing of Jerry Seinfeld is unbeatable. If you are a fan of good and smart comedy then this is the show for you.
---
3. The Wire (2002-2008)
The Wire is a crime thriller. The show focuses on the USA's battle on drugs and its aftershocks. The best part about this show is that it not only focuses on the law enforcement agencies and drug dealers but it also shows us a perspective of average citizens.
The Wire will provide you with a very rich experience due to its amazing writing and performances. The show feels as if it is recorded for a documentary however that is intentional. Its aesthetic plays an important role in telling a compelling story.
This show is very different from other shows of this genre. It is fresh and has a very compelling premise. I highly recommend this if you love shows with rich narratives. It is an important show in the history of TV Series.
---
2. Breaking Bad (2008-2013)
Breaking Bad is created by Vince Gilligan. It is a crime drama show which revolves around a chemistry teacher who gets himself involved in the drug business and gradually rises to the top to become the very best in the business.
Breaking Bad is quite slow-paced at the start and takes its time to completely pull in the viewer. However, once things start unveiling, prepare yourself for a nonstop ride of thrill, suspense, and emotions.
This show is extremely well-written and has one of the best finales in terms of satisfaction. In addition, the show cleverly uses some subtle foreshadowing which requires multiple viewings to understand. It is one of those shows you just can't miss.
---
1. The Sopranos (1999-2007)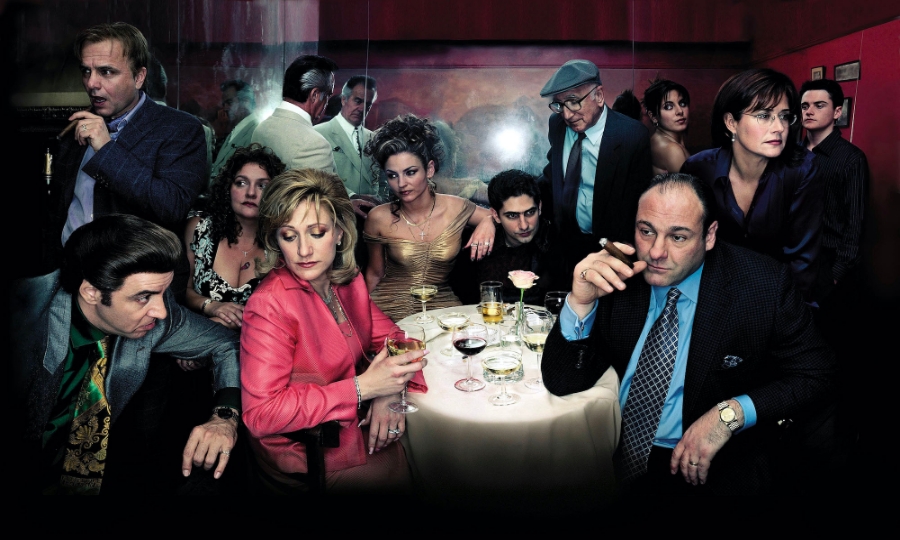 The Sopranos revolves around a crime boss named Tony Soprano who is dealing with professional and personal issues which lead him to seek help from a psychiatrist.
It is often regarded as the greatest TV series of all time. Each episode is comprised of intelligent writing, great acting, and high production values. The writers however get most of the credit in this case due to their use of symbolism and their handling of such a unique concept.
Moreover, the writers make sure to balance out the violence with moments of love, sympathy, and honor. The Sopranos is one of a kind TV series and it stands tall above the rest as America's most original and compelling drama.
---
Conclusion
To conclude, you should not skip out on these shows. If you were skeptical about watching any of these, your confusion must be gone now. So grab a ton of snacks and start binge-watching. Furthermore, these stories will remain with you forever.
Check also: