Zodiac Affinity is one of the most unique extensions of Spotify for making your unique playlist. It is a very interesting web application created by Javier Blázquez, Lucas Aranda, and Maria Artalejo that works as your Spotify playlist generator.
Does Zodiac Affinity Really Use Astrology?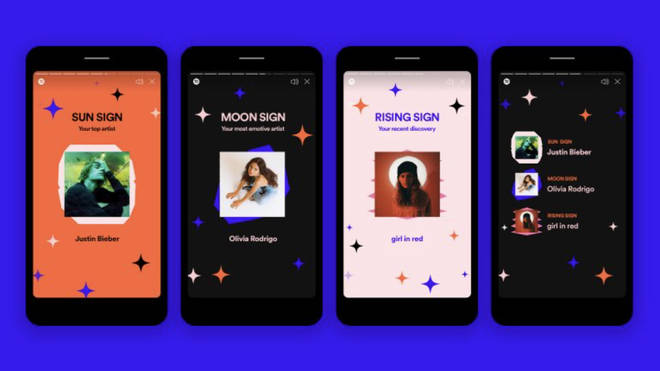 Do you believe in horoscopes? Things like how the stars and planets affect your life and so on. Horoscope is an ancient study of astrology that gives you a Zodiac sign based on your birth date or time. Based on that Zoodiac sign, you get suggestions from horoscope experts about daily things in your life.
The idea of Zodiac Affinity is also based on horoscopes. At least that's what the name and integrations suggest. Doesn't matter whether you believe in a horoscope or not, we all feel like everything is predetermined sometimes; maybe our choices, likes, dislikes are also already selected.
So, does Spotify Zodiac Affinity really use astrology, or horoscope to create a playlist for you?
No one knows. This is a mystery. All we know is, Spotify users can generate a playlist with Zodiac Affinity that matches their unique taste in music and priority quite well.
How Does Zodiac Affinity Work?
Spotify Zodiac Affinity generates a playlist based on your Spotify listening habits. It basically reads your Spotify listening history and detects what kind of songs you usually like, and which songs you listen to frequently, it also predicts what songs you might like. And based on that it creates a short but impactful playlist that you will love to listen to.
When you sign in to Zodiac Affinity, you will have to select your Zodiac sign. So your chosen Zodiac sign also has an impact on the playlist it generates. So that you feel an astrological connection to the songs you get suggested.
How to Create A Playlist With Zodiac Affinity?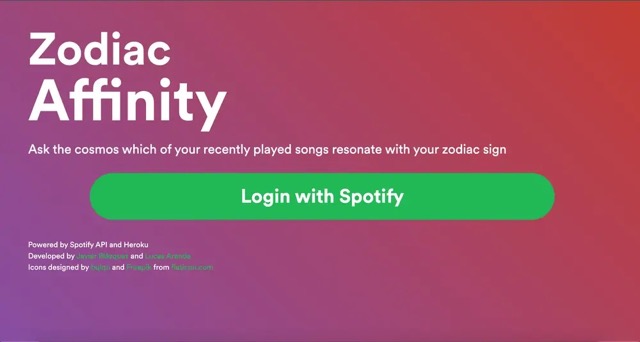 Zodiac Affinity is super easy to use. It's a web application for generating Spotify playlists automatically based on your unique priorities. It just takes one tap to generate a playlist which allows you to immediately enjoy songs you like.
Here is how to get the Zodiac Affinity playlist on Spotify:
Visit the website: zodiacAffinity.tech
Login: Press "login with Spotify" this will take you to the page showing what data they go through to create a playlist. This includes the Spotify user's user name, number of followers, songs in their saved library, top artists, etc
Agree: Press the "Agree" button if you are okay with it
Choose your Zodiac sign: This part is a bit crucial if you don't know your Zodiac sign. If you know your zodiac sign, simply click the "down arrow or drop-down button" select your Zodiac sign, and press "Next"
If you need to know your zodiac sign, read this blog to the end. However, you can also continue with any Zodiac sign you like. Exploring different zodiac signs may also be interesting
Enjoy! After you press the "Next" button a list of songs will auto-generate. Now it's time to listen and explore your new Zodiac playlist
In short: To create a playlist on Spotify Zodiac Affinity, all you have to do is, visit zodiacAffinity.tech, log in with Spotify, select a zodiac sign, and press "Next".
This may take only a minute to generate an awesome playlist according to your taste in music.
How to know the Zodiac sign for Zodiac Affinity, Spotify?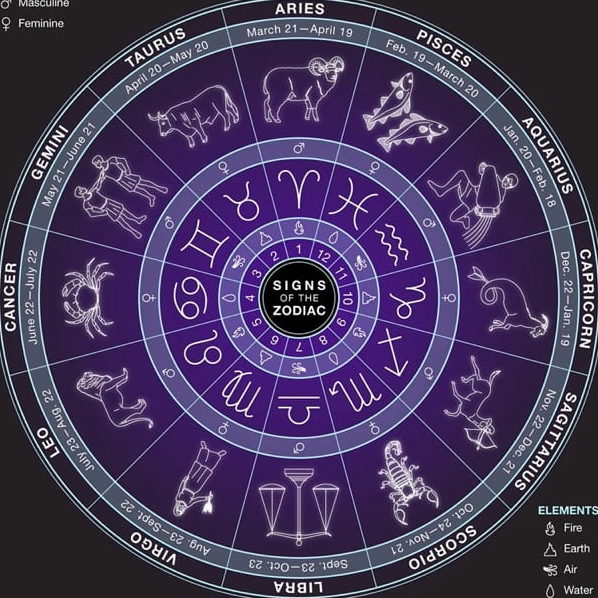 Well, it is not mandatory to select an exact zodiac sign. In case you want to be accurate, you must know that there are 12 Zodiac signs. Your Zodiac sign can be determined based on your date of birth. Below you can see how to determine your Zodiac sign based on your birth date.
Aries: March 21 – April 19
Taurus: April 20 – May 20
Gemini: May 21 – June 20
Cancer: June 21 – July 22
Leo: July 23 – August 22
Virgo: August 23 – September 22
Libra: September 23- October 22
Scorpio: October 23 – November 21
Sagittarius: November 22 – December 21
Capricorn: December 22 – January 19
Aquarius: Jan 20 – Feb 18
Pisces: Feb 19 – March 20
Simply, look at your birth date, and based on that you will find your Zodiac Sign. For example, if someone's birth date is on 22nd February, his/her Zodiac sign will be "Pisces". Now go and try using Zodiac Affinity with your actual Zodiac sign! Who knows? Maybe something surprisingly interesting is waiting for you!
Note: If you have a completely new Spotify account and haven't heard a few songs using Spotify yet, then Zodiac Affinity may not work for you.
Final Words
Zodiac Affinity is a very interesting Spotify music generator. We are not sure about how astrology can affect your taste in music, but surely the Zodiac Affinity Spotify playlist generator suggests a playlist of surprisingly relevant songs that you will like.
Check also: