If you're interested in exploring this topic as a performer, the Acrosonic piano is one of the best piano models to try out. People often refer to the piano as one of the world's most beautiful musical instruments as it combines human intelligence, creativity, talent, and a thirst for discovery.
Nonetheless, what is an Acrosonic piano exactly? What is about it that makes it so popular with both players and listeners? Today, we'll find out more about Acrosonic piano.
What Is The Meaning Of The Word Acrosonic
Acrosonic is a combination of two words. They are 'acropolis' and 'sonic'. Greek word 'acropolis' means something extreme for example a peak or a height. 'Sonic' refers to sound, which comes from the Latin word 'sonus'. This implies that Acrosonic piano is a type of piano that can produce a wide variety of tones.
History Of Acrosonic Piano
Acrosonic pianos are a series of upright pianos manufactured by Baldwin. They were first built in the year 1936. As a result of its superior sound, it sold very successfully over the following fifty years. Judging by the sales numbers, it appears that it was well-received. By the end of 1973, Baldwin manufactures over one million Acrosonic pianos.
Numerous sources say that the Acrosonic piano has sold more units than any other type of piano in history. So, Baldwin registered "Acrosonic" as a trademark with the US Patent Office.
Unfortunately, after Baldwin's bankruptcy in 1984, the majority of this particular piano brand's models are no longer produced. Two models with the 'Acrosonic' brand are being made and sold today after being acquired by the Gibson Guitar Company in the late 1990s, Gibson Guitar Company started producing two models with the Acrosonic brand and those are still dominating in today's market.
Overview Of Acrosonic Piano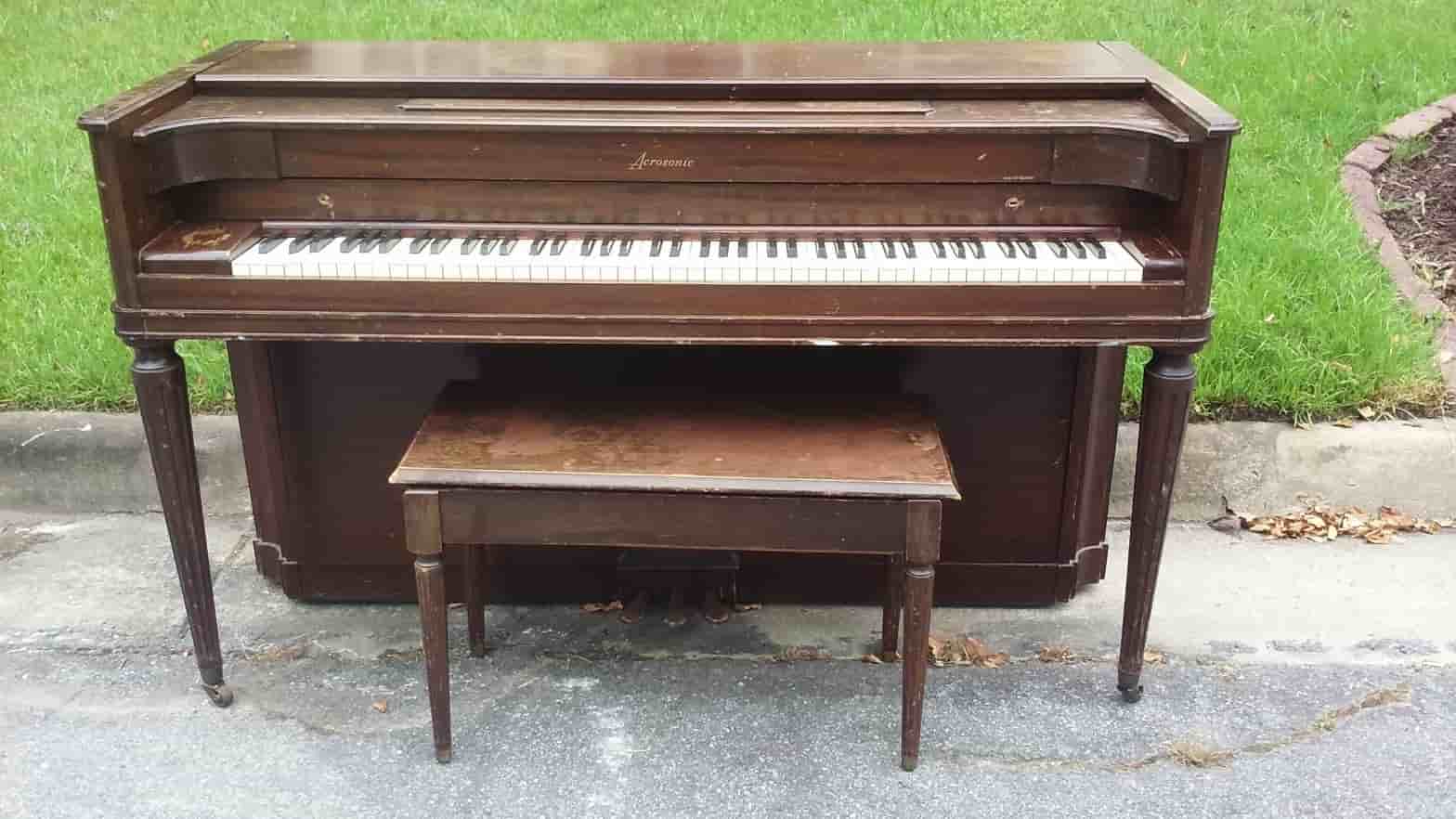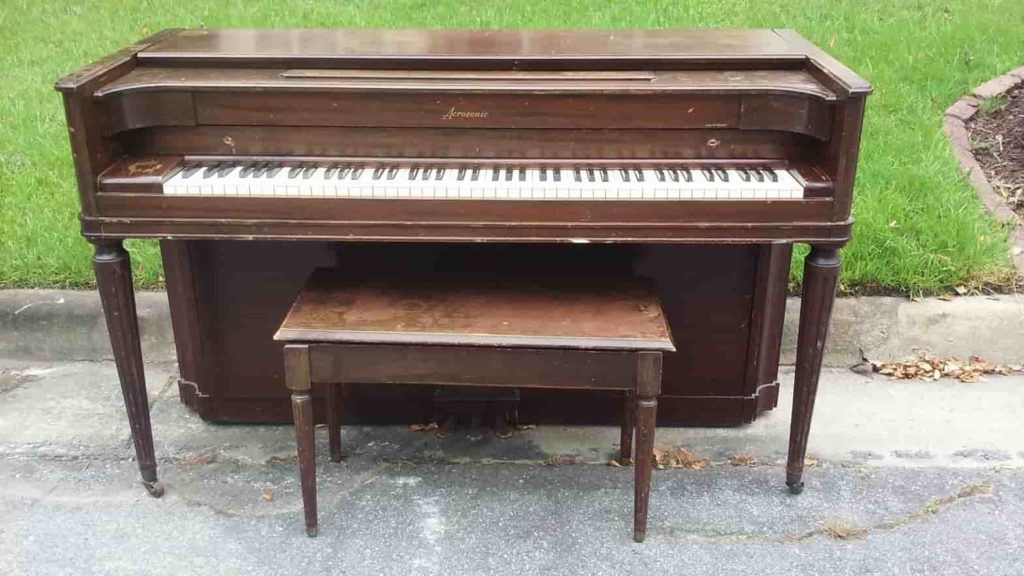 Acrosonic piano has 88 keys, which is the current standard for most pianos today, and shorter strings than a conventional piano. This gives the piano a ringing sound, similar to that of a bell. Some of its advantages include small stature, with the tallest model standing no higher than 44 inches. This makes it easier to fit in small living areas such as flats and one-room houses. Woods such as mahogany, dark walnut, royal cherry, and pecan are used to construct the Baldwin Acrosonic pianos, which create rich tones despite their tiny size.
Acrosonic pianos from Baldwin have been a great hit for many reasons, which include their supreme tones, the quality of materials used, compact size, and traditional design. These pianos have become some of the most sought-after instruments in their category. All of these factors contribute to the value of the Acrosonic piano.
Acrosonic Piano Models
Baldwin's Acrosonic pianos come in two versions: a 'spinet' version and a 'console' version.
The stand-out difference between the Acrosonic and other types of upright pianos is the action. Acrosonics employ a drop action in which the keys are not linked to the action. This enables the keys to achieve a high repetition rate. This is a part of what made them unique and popular.
A better grade hand-rubbed finish was used on the cabinet of the Acrosonic pianos, compared to the cheap spinet and console pianos that were made by Baldwin.
The Spinet
The spinet pianos were popular in the 18th century and were still in use in the 1970s. With a height of around 36 inches and a weight of around 300 pounds, the spinet is one of the smallest types of pianos.
The Baldwin Acrosonic piano made the spinet popular again in the 50s, 60s, and 70s. It was used by pop musicians who were seeking a distinctive sound.
Whereas cheaper spinet pianos were created with laminated plywood soundboards, the Acrosonic spinet piano was made with a solid spruce soundboard. Solid spruce resonates more freely and produces a more pleasing tone.
In comparison to earlier spinets, the Baldwin Acrosonic Spinet had a more contemporary build quality and inner workings, making it a more versatile instrument.
The Console Piano
Eventually, the Acrosonic spinet was replaced with the Acrosonic console piano. Due to the improved sound quality of console pianos, they were more popular than spinet pianos.
Console pianos are the most common and modern model of Acrosonic pianos used today, calling them sometimes apartment-sized pianos. This variant has the same amount of keys as the spinet model, but they're longer and bigger. They sit around 44" high and can fit in most homes and apartments.
Prospective pianists with slightly larger hands can also play the piano with ease because of the larger key size. Lower price and cost-efficient design are also an improvement over the spinet models. As a result, any experienced professionals or ambitious amateurs can tune and repair their pianos easily.
A lot of time and work was put into the presentation of this new model by Baldwin. Besides the increased aesthetic qualities of this new model, the cabinet can be made from one of three types of woods: Mahogany, Pecan, or dark walnut.
How much Do Acrosonic Pianos Cost
The price of the Baldwin Acrosonic piano differs depending on the model. Blue Book of Pianos is an invaluable handbook for anyone who owns or planning to buy a piano. According to Blue Book of Pianos, excellent condition Acrosonic pianos are going for anywhere from $1,000 to $2,800. An Acrosonic Spinet from 1943 was listed in excellent condition for $2,300.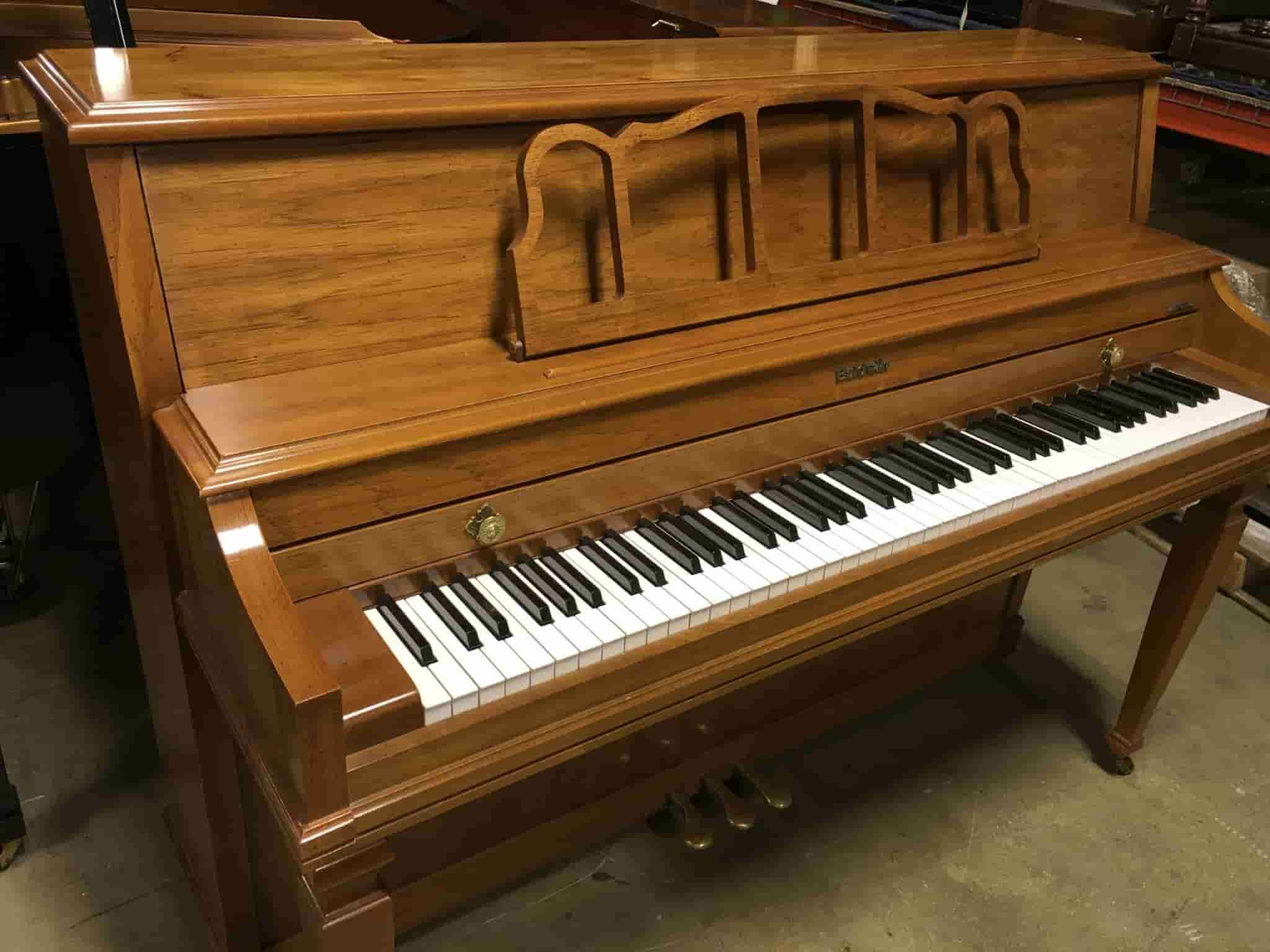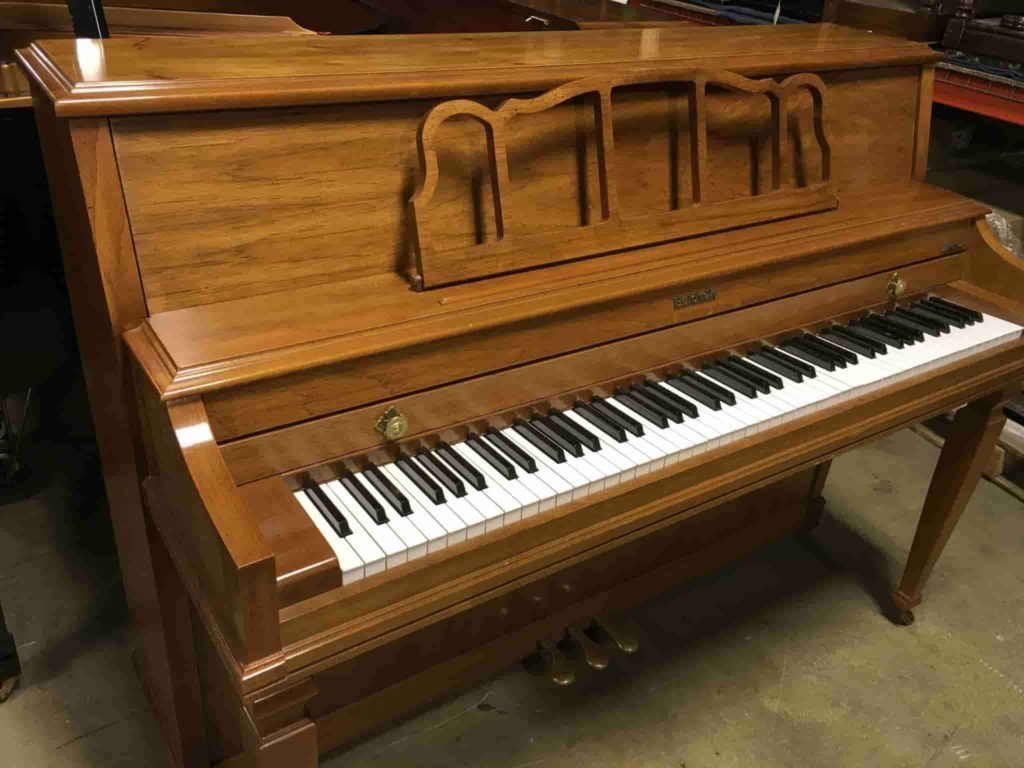 A used Baldwin Acrosonic Console Upright Piano 41′′ Satin Walnut costs around $1,995, while a used Baldwin Acrosonic Spinet Upright Piano 36′′ Satin Ebony costs around $1,495 on multiple websites. You can find some used models, such as the Baldwin Acrosonic Piano (mahogany) with a bench available for $700 – $800. If they are in good condition, they can be a real bargain.
Sometimes older, more authentic Acrosonic pianos might be difficult to find. Baldwin still manufactures two types of console pianos, such as the models B342 and B442.
The Baldwin B342 Acrosonic Console
B342 Acrosonic is one of the most successful Baldwin models since its debut in 1936. As a result of more than 100 years of the quality piano building process, Baldwin's Acrosonic Consoles have a scale design that offers a classic appearance and outstanding performance that will properly complement your décor.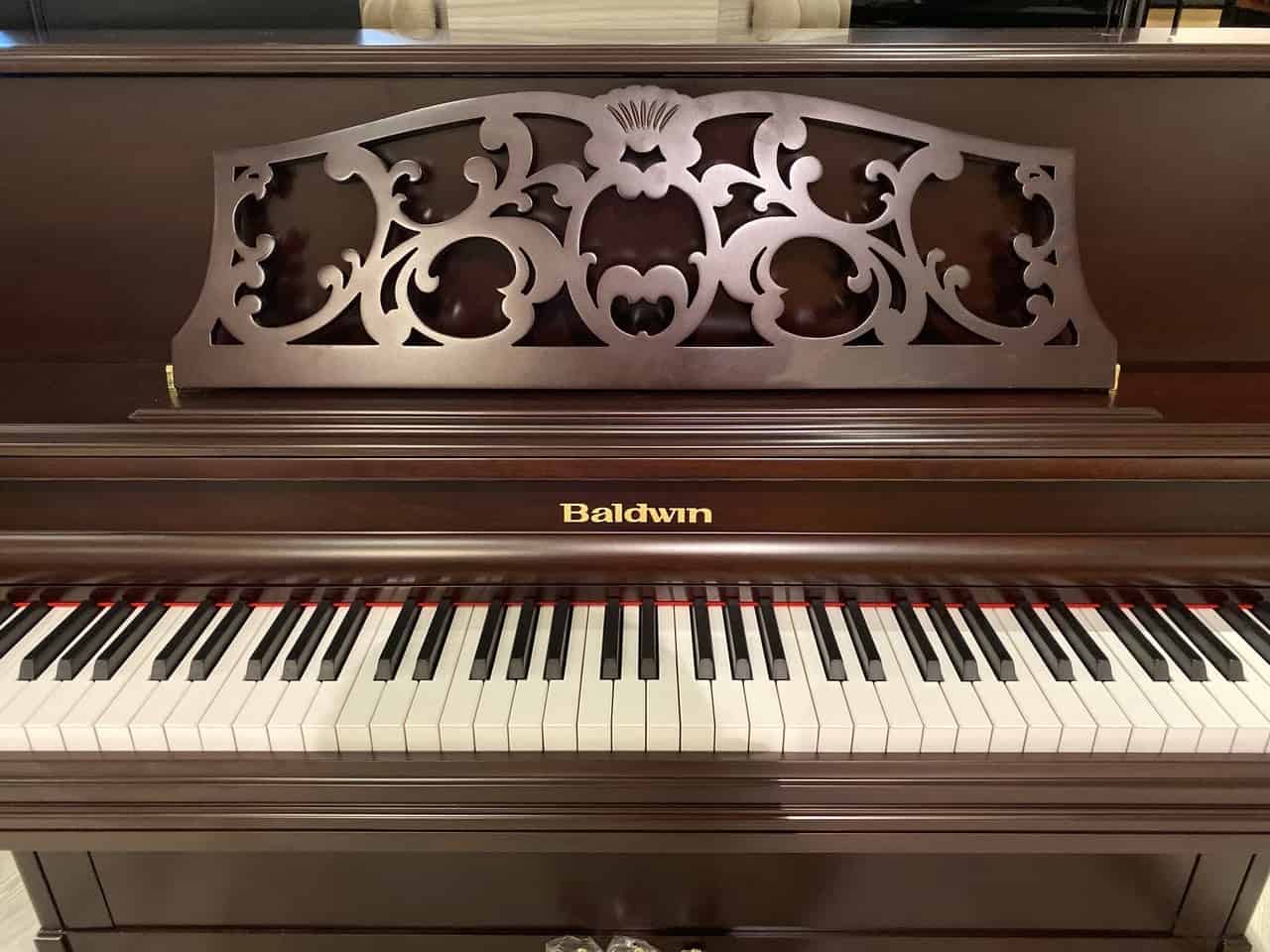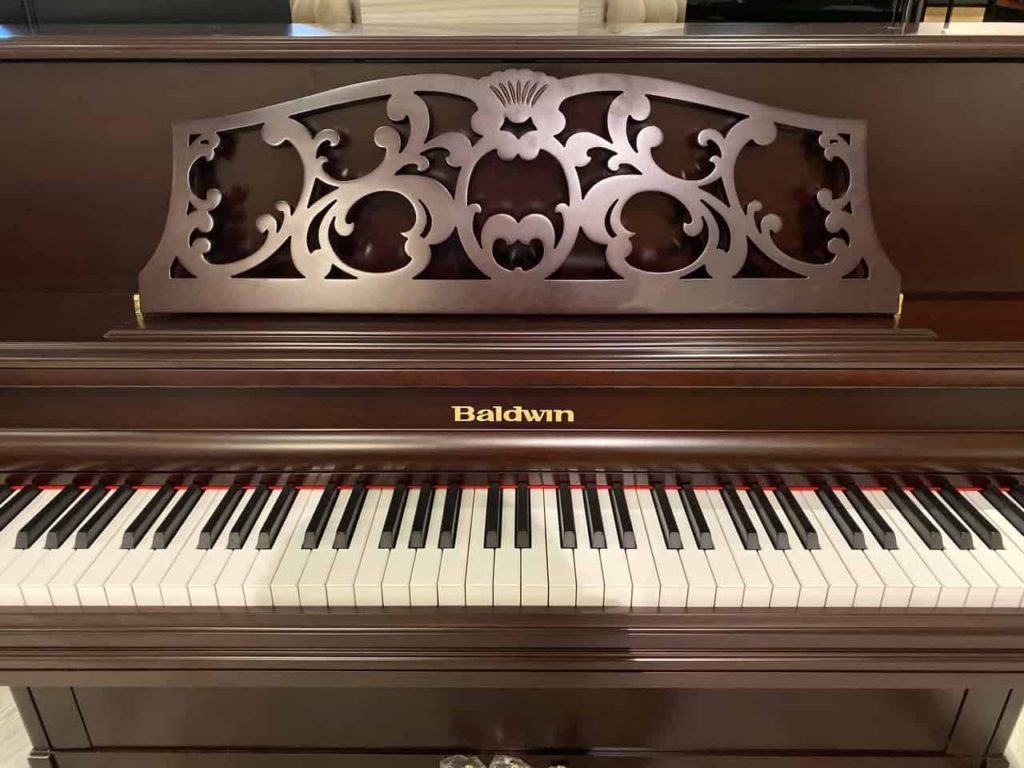 B342 has a spruce soundboard and ribs, and a hard rock maple bridge with precise notches. It has a Satin Cherry finish. It also has Baldwin's Full Blow Direct Action, which gives it a better touch than other pianos of this size.
To create the best tone and balance all across the frequency range, the B342 uses the Baldwin Scale Design, a precise "recipe" for determining optimum sounding area, string length, bridge placement, and striking point.
The B342's 43 ½" tall height allows for a bigger soundboard than other compact uprights, resulting in a rich, powerful tone. The purity and balance of 100 percent virgin wool hammers improve to the length of the strings. Also, Baldwin uses many of the same premium tonewoods and components, including a spruce soundboard, solid two-ply beech, and hard maple bridge, spruce ribs and back frame, and a 19 ply hard maple pin block.
Furthermore, Baldwin's Full Blow Direct Action improves the instrument's feel and response, resulting in a tremendously expressive playing experience. The B342 costs roughly 7000 dollars.
Conclusion
Acrosonic upright pianos from Baldwin have a heritage that is second to none. They have become increasingly difficult to find in recent years, but the owners of one of these pianos always enjoy its unique sound. Many popular pianists have complemented its feel, design, and user-friendliness. 
Check also: