Listening to music without wifi or any internet connections is no longer a dream for music lovers. There are plenty of music apps available for both android and iOS users that allow them to listen to music without wifi or data connection.
Today, we live in a world where music has become our primary source of entertainment. No wonder why music is important to everyone. Wherever we go, we like to keep music with us as our constant companion.
Listening to music by streaming online is great. But it can be difficult to have a 24-hour internet connection in every place you go. To overcome the problem, we have compiled a list of the best music apps without wifi for both android and iOS devices to listen to your favorite playlist.
How Have We Created The List Of Best Music Apps Without Wifi
Of course, the top priority of selecting the apps is to listen to music without wifi or data connection, The other factors that we have considered are-
Quality of music
Library of songs
App design & features
Subscription plan
Supporting device
Worldwide availability
Before we jump to the list of best music apps without wifi, here are few things to notice:
Some of these apps are free for ad-supported online music streaming.
To unlock the offline features you may need to upgrade to a premium account.
To listen to offline music, you need to save or download the music using wifi or data connections.
Subscription fees may vary depending on the region you live in.
Whatever music app you choose to listen to music without wifi, keep these facts in mind and select the suitable one.
---
1. Spotify
With over 365 million monthly active users, including 165 million paying subscribers, Spotify holds the largest music streaming service provider title. Spotify offers free online music streaming on shuffle-only mode with ads support. Only premium subscribers can listen to music without wifi or data connections.
Key Information:
Spotify has a huge library of over 70 million songs upgrading every day with the latest releases.
The freemium version offers you access to the tracks in 160 kbit/s. Premium users can listen to high-quality audio tracks in 360 kbit/s.
Exclusive podcasts, 24-hour radio stations, and music videos are available on Spotify, and listen to them later by saving offline.
Users can build, update, and share playlists and search for music by artist, album, or genre.
The monthly subscription starts from 9.99$. Spotify offers the students premium subscriptions at half of the regular price.
Spotify is now available in over 170 countries.
---
2. Apple Music
Apple is the first company to acknowledge the power of selling music online. With their iPods and iTunes, Apple has to be on this list. Apple, despite being the long-time rival of android, made this app available for both iOS and Android platforms. On top of that, Apple Music isn't only confined to audio, it supports video as well.
You can make your playlists and download them to your phone to listen to this music app without wifi. This feature comes with a paid subscription only.
Key Information:
Play over 75 million songs that too in lossless audio, at no extra cost.
Max stream quality 24bit / 192kHz
Enjoy songs with the special feature of Dolby Atmos.
Exclusive playlist and live radio.
Shows lyrics.
New subscribers get free apple music for six months. The monthly subscription starts at $9.99.
Student plan available for college students that include Apple TV+ for free at $4.99.
Listen across all of your devices.
---
3. YouTube Music
YouTube Music is the king of video streaming sites YouTube's take on the likes of Spotify. Launched in 2015, this app has a collection of 30 million songs and available music videos.
The app approves up to 50 thousand songs to upload on your local cloud and listen to them whenever you are connected to your account.
YouTube Music features background play to keep your music playing while you run other apps on your phone. Just turn on the audio-only mode to listen to music without loading the videos.
Key Information:
Listen and watch the streaming music from the endless music catalog.
The freemium version offers quality up to 128kbps. Premium users can listen to high-quality audio tracks at 256kbps.
YouTube premium features ad-free music and offline playability at $9.99/month. Student plan at $4.99/month.
Premium features screen-locked playability.
Clean layout and unrivaled music video selection.
---
4. Amazon Music Unlimited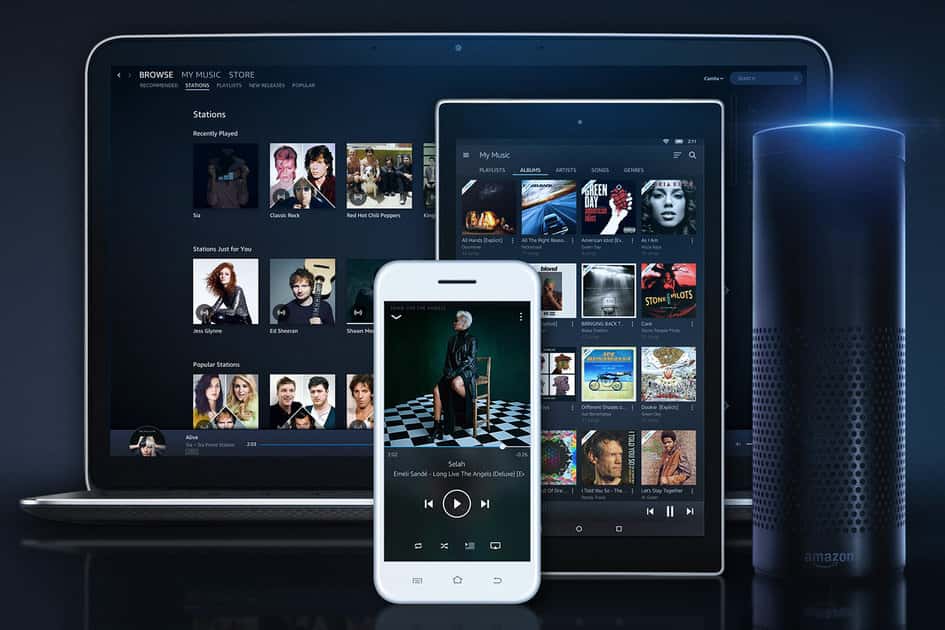 You may not know that you can then access the entry-level music streaming services from Amazon if you have Amazon Prime. As well as the free one-day delivery and Amazon Prime Video, Amazon Prime allows you to Amazon Prime Music, which gives you over 2 million songs to stream on-demand at no additional cost. And they're also ad-free.
Amazon Music Unlimited allows you to listen to music offline without the internet. Once you have purchased the songs, you can download them and listen to this music app without a wifi connection.
Key Information:
Unlimited access to 75 million songs.
2 million songs for free
Always ad-free
Max streaming quality: 256kbps
Offline availability with unlimited skips.
Starts at $9.99/month ($7.99 with Amazon Prime).
No free version like other apps.
---
5. SoundCloud
SoundCloud is one of the most well-known free streaming platforms. It is popular because it allows users to upload and showcase their music to the world. You can easily connect with friends and even the artists directly on this platform, make playlists and get curated tracklists based on your taste.
The music app is available on both Android and iOS platforms SoundCloud can be used freely if you want to just browse and listen to music. But if you're looking for offline options, then you have to pay a monthly subscription which is available for $5.99 and $9.99.
Key Information:
120 million+ tracks, mixes, and podcasts with a nice UI.
The free version offers music in 64 kbps and the paid premium version offers up to 256 kbps.
Ad-free listening.
Save unlimited tracks for offline listening
SoundCloud Go at $5.99/month and SoundCloud GO+ at $9.99/month. SoundCloud Go+ is 50% off for students.
Access full catalog in SoundCloud GO+
SoundCloud GO+ supports mixing tracks within select DJ apps.
Additional feature includes enhanced analytics.
---
6. Deezer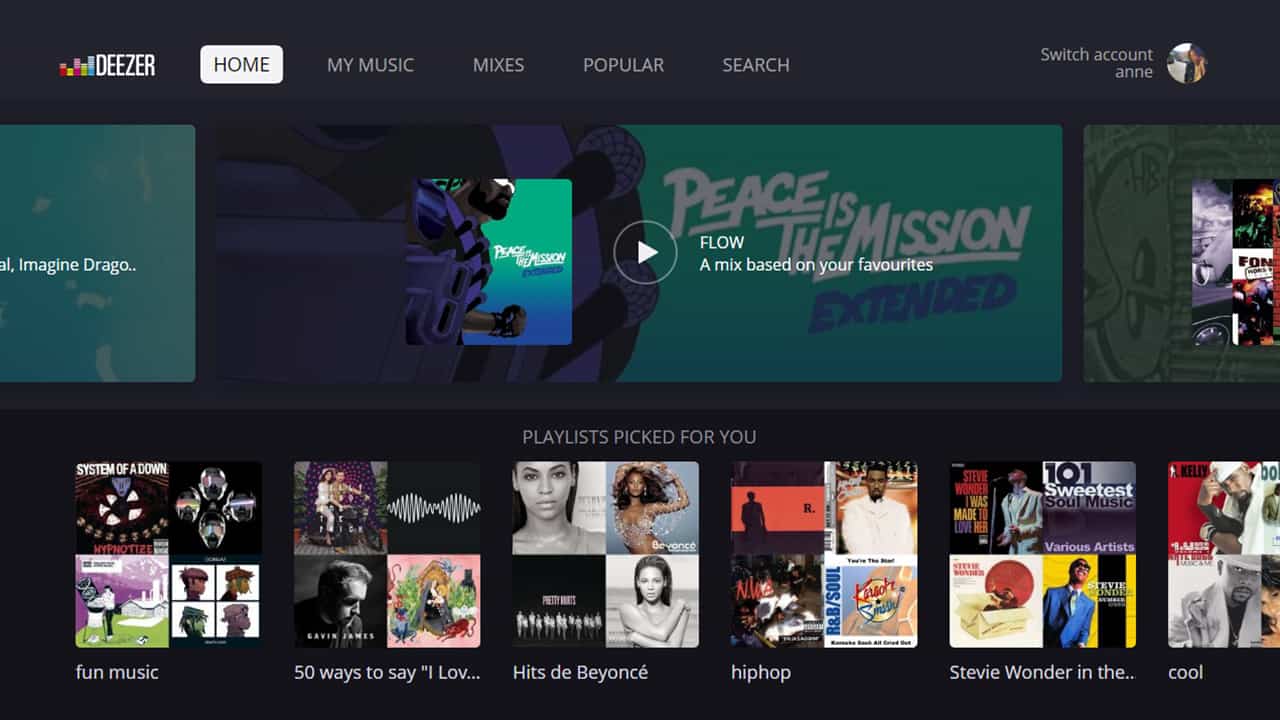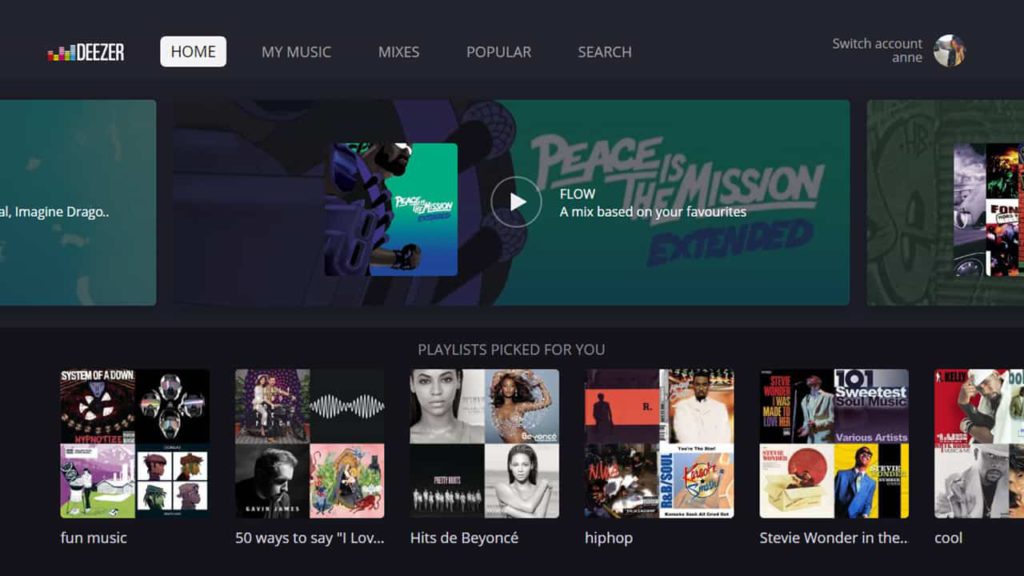 Deezer, one of the most popular music streaming applications in the world, offers free music to millions of listeners across the world. Deezer offers its huge library of songs with an ad-supported free version.
For listening to music without a net connection, a premium subscription is mandatory but at a great value and no ads. Deezer is available in 182 countries worldwide.
Key Information:
Over 73 million songs
Versatile audio channels, radio stations, and podcasts for free
An expansive catalog of FLAC tracks in all genres
A minimum quality of 128 kbps. Deezer Premium let users access music at 320kbps and HiFi offers max stream quality of 16 bit / 44.1kHz
Premium at $0.99/month for 4 months, then $9.99/month
Deezer HiFi at $0.99/month for 4 months, then $14.99/month
---
7. Pandora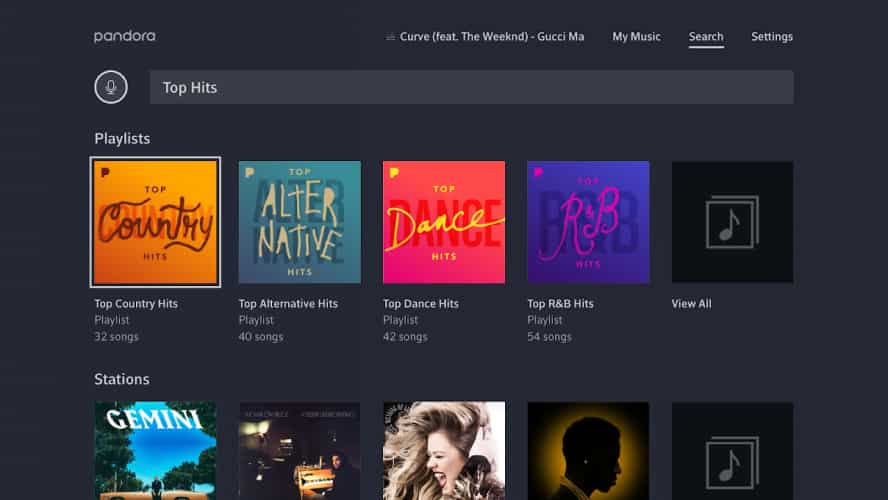 Pandora is one of the best music streaming apps in the industry, a platform where users can join and interact with different music lovers. The app is only available in the US.
Pandora gained most of its popularity for the feature of personalized stations. You can also find a large number of music stations that you can listen to without access to the Internet. Paid subscription required for offline listening.
Key Information:
Personalized station and unlimited skips.
Pandora's free version lets users access music in 64kbps, while Pandora Plus and Pandora Premium subscribers have the option of 192kbps.
Pandora Plus is available at $4.99/month and Pandora Premium is at $9.99/month.
Pandora Premium Student package is at $4.99/month.
---
8. Tidal
TIDAL was a startup acquired by Jay Z to compete with Spotify and Deezer. TIDAL brings listeners closer to the artists with more than 70 million tracks, exclusive releases, and lots of interviews and music videos.
Fully ad-free! There are also over 250,000 high-quality videos including music videos, original content, exclusive live streams, and events.
Tidal is known for its quality. This complete ad-free music app lets you enjoy offline music by saving or downloading your favorite music tracks. TIDAL doesn't provide a free version.
Key Information:
Over 70 million songs and 250,000 videos.
Expertly curated playlists
TIDAL Premium – $9.99/month with standard sound quality (320 Kbps). TIDAL HiFi – $19.99/month with lossless High Fidelity sound quality (1411 Kbps), Master Quality audio (up to 9216 Kbps), and immersive audio – 360 Reality Audio, Dolby Atmos Music.
Student Premium – $4.99 a month and Student HiFi – $9.99 a month.
---
9. Evermusic
Evermusic is a wonderful app for people who like large music libraries and want to have access to all of that through their smartphones. It allows you to collect all your music in one location from different cloud services.
Evermusic works for iOS only and it's free. The app has an offline mode that allows you to listen to your saved music without a wifi or data connection.
Key Information:
Supported audio formats are MP3, AAC, M4A, WAV, AIFF, M4R.
Supported cloud services are Google Drive, Dropbox, OneDrive, Box, MEGA, Yandex. Disk, WD MyCloud Home, DLNA, MediaFire, WebDAV, SMB, MyDrive, pCloud, HiDrive
Users can enable audio player cache and all recently played songs will be downloaded automatically.
Users can stream music to Apple TV and Google Chromecast devices.
---
10. LiveXlive
LiveXLive is an internet music streaming service that lets you create your personal radio station. Based on your favorite artists and genres, you can create your favorite playlists. The sound quality is wonderful. With this app, you can easily find the radio station that plays music This app also has the feature of like or dislike which allows the app to understand the music you love to listen to.
The app is not ad-free and includes limited skips in the free version. The plus version has maximum audio quality, no ads, and unlimited skips. The premium edition offers offline music on top of the plus edition features.
Key Information:
Max available streaming quality is 320kbps
Huge collection of tracks
Convenient control menu with wide functionality
Original Shows & Podcasts
LiveXLive Plus is $3.99/month and LiveXLive Premium is $9.99/month
---
11. Shazam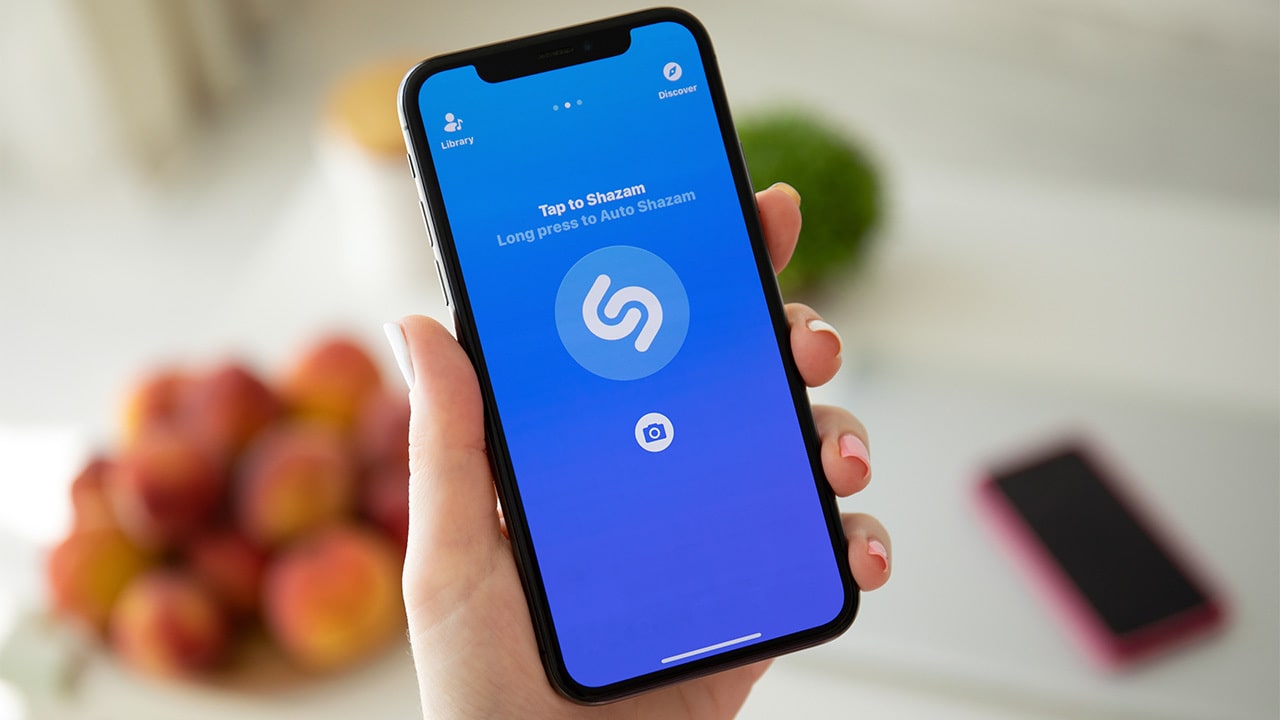 Shazam is different from any other option in this list. It is not a regular app to play music. The app is popular for finding any song for users. Tech giant Apple Inc is the owner of this app
If you come across a song that you know nothing about, Shazam will find the information about it for you, just by listening to the song a bit. Shazam also can do this offline. Just let the app listen to the song, but you have to be online to get the result.
---
12. MusixMatch
MusiXmatch is an excellent application, which is a bit like Shazam. MusiXmatch can search songs just like Shazam. If you find yourself looking for the lyrics of your favorite songs, this application is just for you.
With over 7.3 million licensed texts in 18 different languages, MusiXmatch is the largest lyric library in the world. Just start the app as you listen to a song on your mobile, radio, or TV, and you'll obtain its lyrics within a few seconds. A biography of the musician and his most popular tunes will be shown in addition to the lyrics. This information can be shared with friends too.
Key Information:
Worldwide free service
Works very well while offline
The app has a library of 7.3 million licensed texts in 18 different languages
The floating lyrics feature of MusixMatch supports the top music apps too.
Built-in Equalizer.
---
13. Napster
Napster, previously called Rhapsody, offers a fantastic music collection of 40+ million tracks from thousands of music artists and DJs. It was the first-ever application to broadcast music that today has one of the largest libraries. The UI is rather simple and has several additional features.
The app is free to use online. To listen to music without wifi you need to get a subscription plan.
Key Information:
Ad-free audio and unlimited skips
Personalized radio
Available audio qualities: 192 kbps to 320 kbps.
Napster Premier is priced at $9.99/month and features offline mode and unlimited play.
Conclusion
We hope you enjoyed our list of the best music apps to listen to music without wifi. With these apps, you can enjoy your favorite tunes even when you're not connected to the internet. So, whether you're on a long car ride or simply don't have access to wifi, you can still rock out to your favorite songs.
That's it. Hopefully, you have made up your mind to choose from the best music apps to listen to music without any access to wifi. We are happy to be a part of your upcoming happy memories. Which of these apps is your favorite? Let us know in the comments below!
Related Articles: