Calibbr Score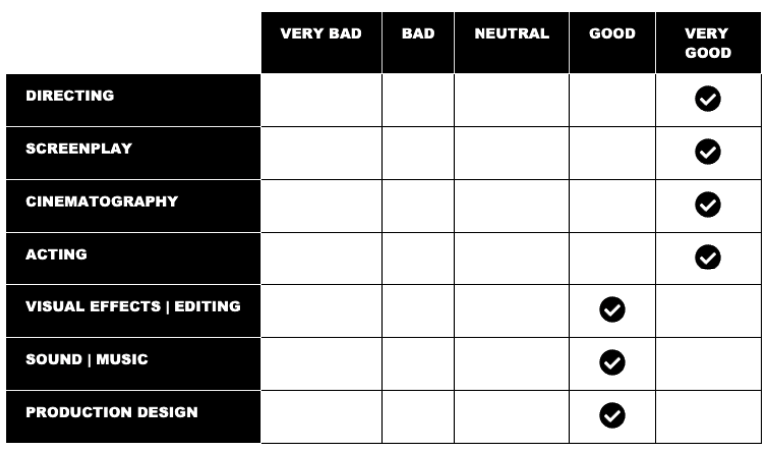 Directing: The directing of this show is top-notch. Netflix can defy all expectations. The direction of Queen's Gambit was very good.
Screenplay: The Queen's Gambit has one of the best writing we have seen this year. All the characters are properly fleshed out and there are little to no plot holes throughout the show. The writing of The Queen's Gambit is very good.
Cinematography: The cinematography of Queen's Gambit is beautiful, It is very good.
Acting: The limited series includes a wide range of actors who have all done an incredible job. The standout performance is obviously delivered by Anya Taylor Joy. The acting is very good.
Visual Effects/Editing: The series is more reality-based so it does not rely too heavily on VFX but they are used to create some sequences. Overall, the visual effects are good.
Sound/Music: The music of this show really cements the vibe of the '60s. It is good
Production Design: The production design of this mini-series is breathtaking. It is very good.
---
Plot Synopsis
Beth Harmon, a nine years old kid, is transferred to an orphanage when her mother is killed in a car accident. When the school janitor teaches her to play chess, she finds a new sense of purpose.
She has a tremendous amount of talent for the game and is soon competing at a high level. However, Beth has developed a drug addiction, which, according to her, helps her concentrate better on the game.
Beth appears to be on the road to fame or maybe it leads to self-destruction.
It is based on a book of the same name by Walter Travis.
---
General Review
The Queen's Gambit is a beautiful show. We follow Anya Taylor Joy's character named Beth Harmon. She is a brilliant actress as proved by her previous roles and she does not disappoint. Her performance is the reason alone to make you binge-watch this series on Netflix.
Apart from the amazing performances by all the cast members, the creator of the show and oscar-nominated writer Scott Frank has done an amazing job in creating this work of art. His writing and direction are top-notch.
There were some excellent messages scattered throughout the show, but they were subtle and did not feel like an agenda was being shoved down my throat.
The character development of even the smallest characters was dealt with grace and we end up even caring for them.
Overall, the finale felt like the climax of a multi-season series rather than a miniseries.
Now let's talk about a few elements of the show that make it great in a little more detail.
---
Anna Taylor Joy (and her child counterpart)
Anna Taylor-Joy is considered a rising talent since her breakout roles in movies like Split and Glass. She never disappoints with her graceful acting skills.
Her acting skills in The Queen's Gambit are also solid. She did an amazing job portraying a complex character like Beth Harmon. Her eyes conveyed the emotions perfectly.
It is hard to imagine if anyone else would have been able to play this role with such grace except her.
However, Anya Taylor Joy is not the only person who portrays the chess prodigy named Beth Harmon in the show. We also see a younger Beth, played by Isla Johnston. She also does a fantastic job portraying young Beth with her unique charm and adorableness.
---
The Beautiful Cinematography
Cinematography is something that sets this show apart from all the other shows is its beautiful cinematography. The show is set amidst the classy '60s era.
From the breathtaking production design to the brilliant cinematography and stylish costume design, all of these elements beautifully capture the aesthetics of that era. With slightly desaturated tones and vibrant lighting the team behind the show transport the viewers to that time period. The overall feel of the show will force you to binge-watch the entire show.
With its beautiful and period-defining production design, it is likely that this show will spring up in conversations discussing Netflix's other period drama called The Crown.
---
Supporting Cast
Besides Anya Taylor Joy, the supporting cast includes prestigious actors such as Marielle Heller, Bill Camp, Thomas Brodie-Sangster, and Harry Melling (yes Dudley Dursley from Harry Potter).
All these actors have done such a fine job of portraying their respective characters, that they actually feel like a part of our life.
Alma Wheatley, Beth's adoptive mother, is played by Marielle Heller, who gives a hilarious and heartfelt performance. Similarly, the performance of Bill Camp as young Beth's mentor is also a memorable one.
---
The Flawless Writing
The Queen's Gambit is not an original story, it is based on a book written by Walter Travis. However, since the storyline revolves around possibly a dry game, chess, it must have been a tough job to adapt it on screen without making it dull and boring.
This is where the show creator Scott Frank comes in who (along with Allan Scott) has written and directed the whole mini-series for Netflix.
Scott Frank is very well known, as he wrote the script for Logan. He has done an amazing job by creating such an entertaining world around the characters. It is hard to imagine that a show based on chess would be so much addicting and entertaining.
There might be some underwhelming elements when it comes to dealing with relationships and social issues. However, these aspects are overshadowed by all the other positive elements of the show.
---
Chess
The show deals with chess in such a manner that according to a report ever since the series' debut in October, chess sales have gone up. Even Magnus Carlsen, the current World Chess Champion, thinks that Netflix has done a great job with The Queen's Gambit.
---
Subtle Themes
The show deals with topics such as drug addiction, mental health, and much more.
It's an understatement to say Beth Harmon has a lot of baggage. Without a father, an unstable mother who commits suicide, and an early introduction to drugs, she was destined to struggle with self-medication.
After a lonely life of around-the-cocktails, even her adopted mother passes away in their Mexican hotel room.
Beth tries her hardest to bury her own capabilities in a bottle of liquor and illicit drugs. Fortunately, like all the other good redemption stories, she has a little help from her allies to get through it.
---
Conclusion
Netflix has done an amazing job adapting the novel written by Walter Travis. The Queen's Gambit can be added to the list of best shows of 2020, a year where people were striving for quality content to binge-watch.
It is a thoughtful and entertaining show, with brilliant performances, visually pleasing production design, and very good pacing.
If you have not watched it already, then go ahead and watch it on Netflix.
---
Similar Shows
If you have watched the show and are hungry for more tv shows or movies similar to it, then here is a list of Netflix recommendations and other content that you may watch to fill the void
The Marvelous Ms. Maisel
The Crown
Peaky Blinders
Anne with an E
The Imitation Game
Emma
Godless