A guitar power amplifier, or guitar power amp, is a device that raises a line-level signal to the speaker level. The signal coming into a power amp is usually Guitar Power amps give power to passive speakers. Don't confuse yourself between preamps and guitar power amps. Though they both are the essential parts of the guitar amplifier, they have different functions.
A Preamp amplifies the signal coming from the pickups to an audible level, so it can be manipulated with all kinds of effects. But, a guitar power amplifier works to make everything loud. 
Why You Should Have the Best Guitar Power Amp?
These days power amps are available in all kinds and forms, including those that perfectly fit pedalboards. Guitar players have realized the full potential of mixing different power amps with different preamps. The advantages of having a perfect guitar power amplifier are unavoidable.
The power amplifier powers a passive speaker unit and can be used in different ways including powering guitar cabs and studio monitors. When you want to make a purchase, it's important to match your power amplifier to speakers that can handle it. Making sure your speakers can match up to these power amps will definitely help to maximize your sound.
A good guitar power amplifier will give you everything when you are expecting some more volume from your guitar. No matter if you are practicing at home or in the studio, having one of the best guitar power amps is perfect for your setup. A good guitar power amplifier will give you the sound and feel of playing out of a legendary amp.
When you're looking for a power amp, it's better to choose a power amplifier with more power than the peak power of your speakers. As most blown and damaged speakers are the result of pushing an underpowered power amp into clipping. Use a power amplifier that delivers twice the program power rating of your speaker to make sure you have enough headroom to minimize risk to your speakers.
Still, confused about which power amplifier is right for you? Don't worry. We found the best guitar power amplifiers for you. 
Best Guitar Power Amplifiers
MOOER Baby Bomb 30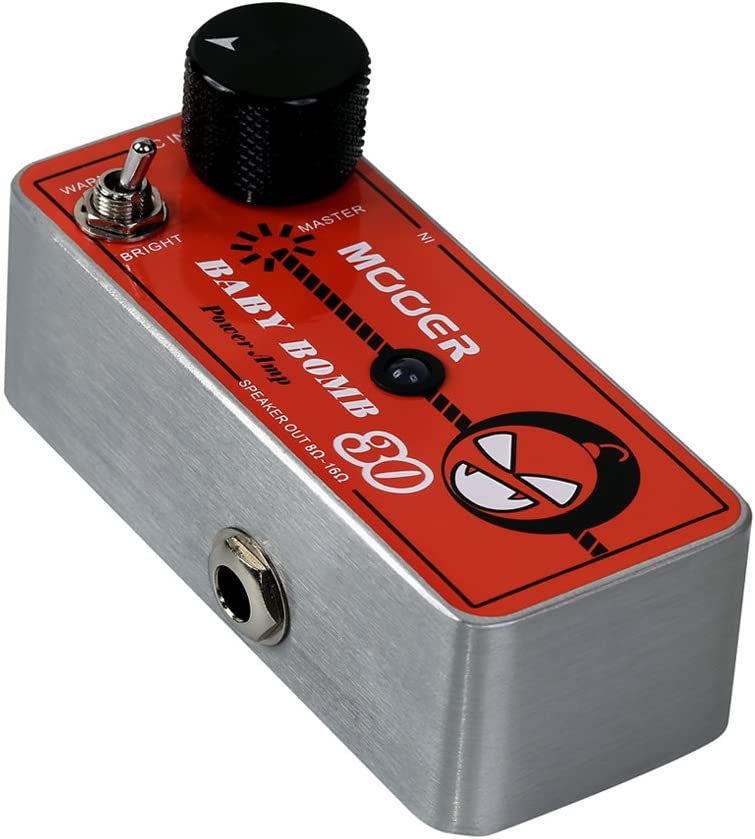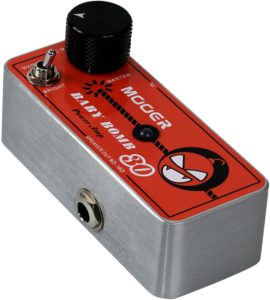 MOOER is a well-known company that delivers plenty of quality for money. Among all their products, you can also find this little guitar power amp, which is one of the smallest units of this type on the market.  But this tiny power amp is packed with so many good things.
Mentionable features:
Highest power output: 30 watt
Master volume control providing smooth post stage overdrive
Warm/Bright switch for adjusting the power stage presence
Built-in overcurrent protection
Speaker cabinets with an 8Ohm or 16Ohm load may be connected.
Easy to set up with two simple controls.
Available at $108 on Amazon.
---
Electro-Harmonix 44 Magnum: 44-watt Power Amp Pedal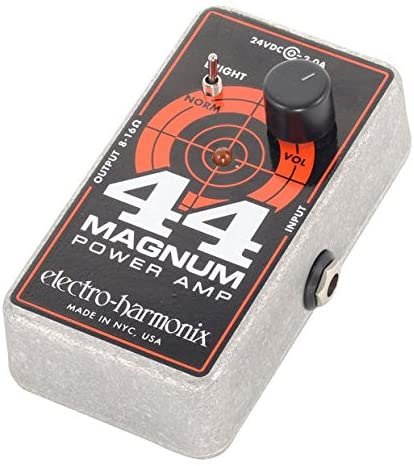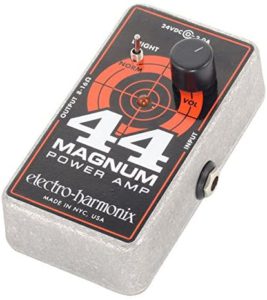 Electro-Harmonix is one of the smallest power amps you can get. It is a perfect solution if you want to power their pedal chain with a simple but compact unit. This 44-Watt power amp makes it suitable for all kinds of occasions.
Mentionable features:
44-watt power into 8 or 16 ohms
The tone transition alternates between a smooth, neutral setting and a musical top-end lift.
Maximum headroom potential
Can be driven to a natural-sounding amplifier saturation
Small and easy to carry.
Includes power supply.
Available at $231 on Amazon. 
---
Seymour Duncan PowerStage 170: 170W Guitar Amp Head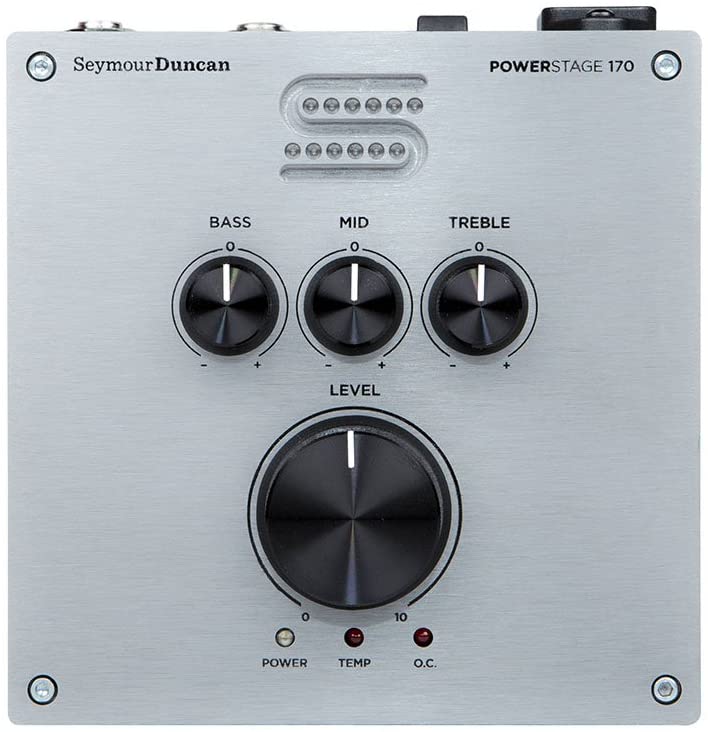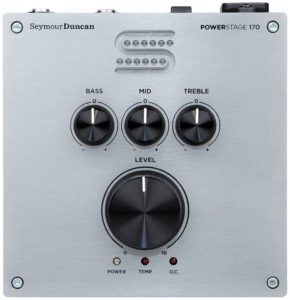 The PowerStage 170 might be small in size but it is a really powerful unit that offers plenty of power for any type of performance. It is a revolutionary pedalboard power amplifier designed for guitarists using pedals, modelers, and effects processors to create their tone. This power amp pedal is highly convenient in many ways offering a pretty amazing sound quality.
Key features:
170-watt power amp with nice and clean preamp section and 3-band
More global EQ
Perfect complement to pedalboards and digital modeling devices
Small enough in size to fit on a pedalboard or in any gig bag
Super easy to use.
This amazing guitar power amp is available on Amazon at $399.
---
Orange Pedal Baby 100 – 100-watt Class A/B Power Amplifier


The Orange Pedal Baby 100 is not that small in size but it is definitely compact enough to fit most pedalboards. It features a quite simple design that includes a two-band EQ, so you can tweak the tone in any way you want. The Orange Pedal Baby 100 has the Class AB push/pull of a classic Orange guitar amplifier. The other features are quite unique too. It provides a clean sound with a lot of dimensions. Let's see what other features it has to offer.
Key features:
100 watts (70 watts at 16 ohms) of full-range, dynamic cab fuel to drive speakers and fill a room.
Translate your stomp and floor FX tones to the real stage.
Class AB analog circuitry that makes sure the touch, feel, and dynamics of a classic Orange amp
It will not degrade your signal on the way in or out
Class AB analog circuitry
Weighs about 7lbs which makes it easy enough to travel with.
Orange Pedal Baby 100 will cost about $399 on Amazon. For more details and purchase visit here.
---
Rocktron Mainline 300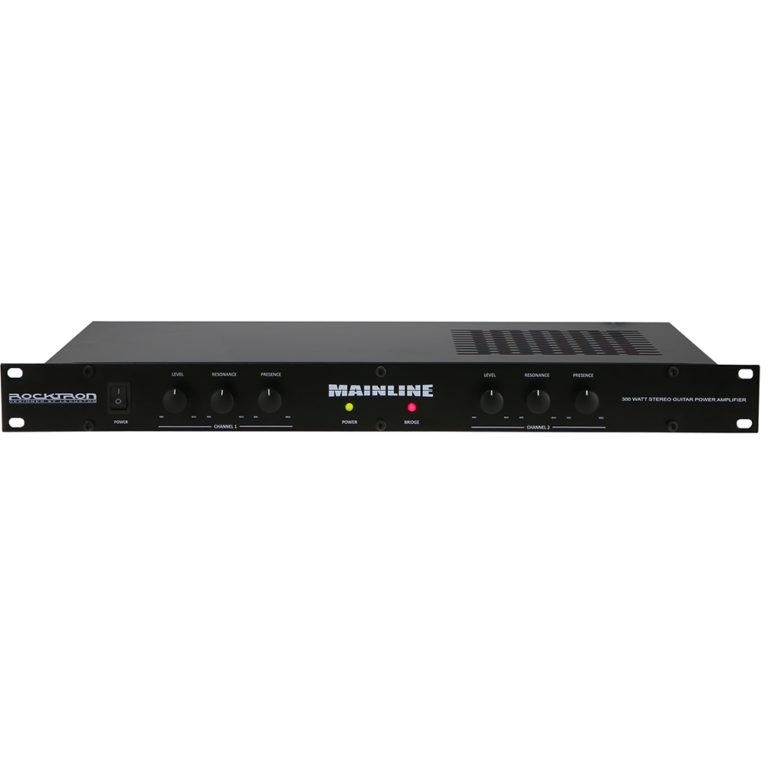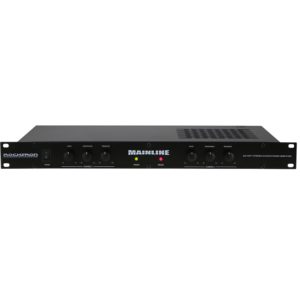 'Rocktron mainline 300' is a solid-state guitar power amplifier that includes a specially designed front-end circuit that goes beyond tube emulation. It is a perfect choice for anyone who is looking for a rack mount power amp that is reliable and sounds awesome. It gives you a feel like playing through a perfectly dialed-in tube amp pushing a speaker into its tonal sweet spot, thanks to its interaction, warmth, and clarity. You'll love the interactive feel and tube-like response of this guitar power amplifier.
Mentionable features:
2-channel, 300-watt solid-state power amp for guitar.
A specially designed front-end circuit that emulates the interaction, warmth, and clarity of a tube amp.
Each channel comes with separate controls
Resonance knobs for beef up your low-end frequencies
Presence knobs to open up your high-end solo playing
Line input for connecting your preamp
power amp can work even without a preamp
Instrument input accepts pedals without needing a separate preamp
Voltage switch that allows you to toggle between 115VAC and 230VAC
Stereo and bridged operation
Available at just $359. Click here to buy on Amazon.
---
Orange Amps Electric Guitar Power Amplifier, (Crush12)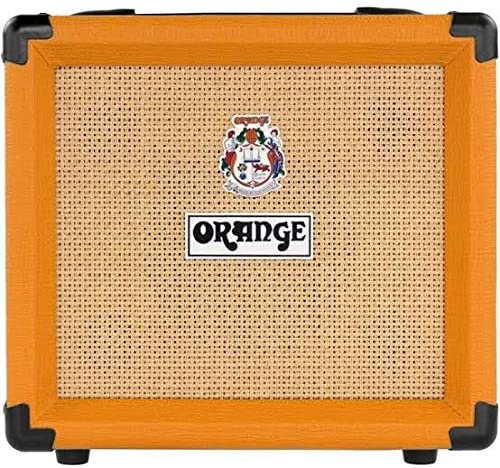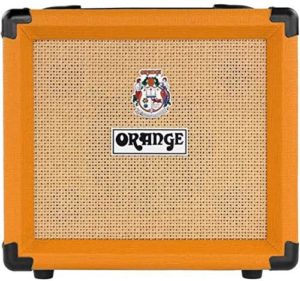 The Orange Crush PiX CR12L is an excellent affordable amp for all levels of guitar players, especially for practice. This guitar power amplifier is one of the most popular amplifiers you will find on Amazon and other shops.
Special Features:
12-watt output wattage
6 inches speaker
Dual gain controls
3 band EQ
Master volume
Easy to carry
Available at just $99. Click here to buy on Amazon.
---
That concludes our list of the 6 best guitar power amps. We hope this list will help you to make your purchase. Thank you for reading this far.